Best UGC NET English Coaching in Trivandrum, Kerala - Expert Guidance & Resources
The UGC NET English exam is a highly competitive national-level examination conducted by the National Testing Agency (NTA). To excel in this exam, it's essential to have a thorough understanding of the syllabus and the exam pattern. Students in Trivandrum, Kerala, are often on the lookout for the best UGC NET English coaching institutes to receive the necessary guidance and support.
Syllabus and Exam Pattern:
To succeed in the UGC NET English exam, candidates must have a deep understanding of the syllabus and exam pattern. This knowledge enables them to prepare systematically. The exam comprises two papers:
Paper 1: General Teaching and Research Aptitude (Common for all subjects)
Teaching Aptitude
Research Aptitude
Reading Comprehension
Communication
Mathematical Reasoning
Logical Reasoning
Data Interpretation
Information and Communication Technology (ICT)
Paper 2: English Literature (Subject-specific)
Literary Theory and Criticism
English Literature from the Jacobean Age to the Present Day
English Language in India
History of the English Language
English Language Teaching
Given the extensive nature of the syllabus for Paper 2, it's crucial to adopt a strategic approach to cover all topics comprehensively. To do so, consider the following:
Understand the Syllabus Thoroughly: The foundation of a successful preparation strategy is a deep understanding of the syllabus. This ensures you focus your studies effectively.
Create a Realistic Study Plan: Once you've grasped the syllabus, devise a study plan that's both realistic and achievable. Break down your study sessions into manageable portions, and allocate sufficient time to each topic.
Gather Study Materials: Collect all the necessary study materials, including textbooks, notes, and practice papers. Ensure your resources are of high quality to support your preparation.
Start Early: Early preparation is key to mastering the vast syllabus. Commencing your studies well in advance provides ample time to cover all topics in depth.
Practice Regularly: Consistent practice is essential. Take regular practice tests to gauge your progress and identify areas that need improvement.
Revise Systematically: Revision is the backbone of exam success. Regularly revisit what you've learned to reinforce your understanding.
For many aspirants, joining a reputable coaching institute in Trivandrum, Kerala, can significantly boost their chances of success.
When selecting a coaching institute, it's crucial to consider factors like faculty qualifications, the comprehensiveness of the curriculum, available resources (such as mock tests and study materials), and the affordability of fees. Additionally, pay attention to the success rate of previous students and seek out feedback and testimonials to get a clear picture of the institute's overall performance.
To optimize your preparation for the UGC NET English exam, choose an institute that aligns with your learning style and budget while meeting your specific needs. It's important to be realistic about the exam's challenges and to approach your preparation with dedication and hard work. With the right guidance and commitment, success in the UGC NET English exam is within your reach.
In addition to understanding the syllabus and choosing the right coaching institute, there are a few more important aspects to consider when preparing for the UGC NET English exam in Trivandrum, Kerala. These factors can greatly impact your success in the examination:
Success Rate: One of the critical factors to consider when selecting a coaching institute is its success rate. Inquire about the institute's track record of producing successful candidates who have cleared the UGC NET English exam. A high success rate is a good indicator of the quality of teaching and the effectiveness of the coaching program.
Feedback from Students: It's advisable to read feedback and reviews from previous students who have attended the coaching institute you are considering. Feedback can provide valuable insights into the overall student experience, teaching methods, and the institute's ability to cater to individual needs. Online platforms, social media, and review websites are good sources for such feedback.
Testimonials: Testimonials from successful students who have cleared the UGC NET English exam after attending the coaching institute can provide further reassurance of the institute's quality. Testimonials can shed light on the impact of the coaching program on students' success and their experiences with the faculty and curriculum.
Remember that success in the UGC NET English exam requires not only a strong curriculum and qualified faculty but also a dedicated and disciplined approach to your studies. Consider your own learning style and budget when making your choice, and aim for an institute that aligns with your specific needs and preferences.
In conclusion, preparing for the UGC NET English exam is a significant undertaking, and the right coaching institute can be instrumental in your success. By considering all the factors mentioned above, focusing on the specific keywords for your location, and dedicating yourself to a well-structured study plan, you can increase your chances of passing this challenging examination and achieving your goal of becoming an Assistant Professor or a Junior Research Fellow in English.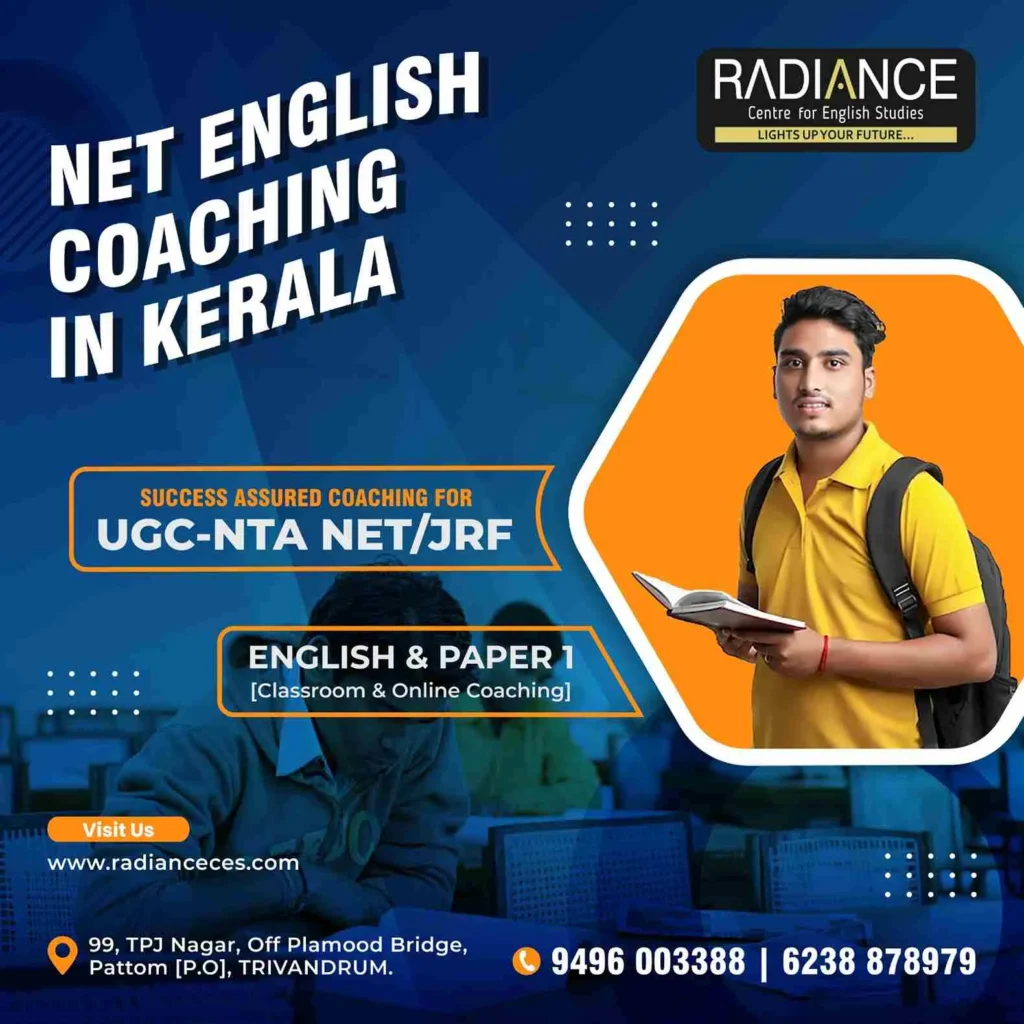 FAQ-Best UGC NET English Coaching in Trivandrum, Kerala