Best UGC NET JRF English Coaching Institutes in Kerala - Top Resources and Guidance
The UGC NET JRF (University Grants Commission National Eligibility Test for Junior Research Fellowship) is a highly competitive examination for individuals aspiring to pursue a career in academics and research. Kerala, known for its strong academic tradition, hosts several coaching institutes that specialize in preparing students for the UGC NET JRF English exam. These institutes provide a wide range of resources to help students excel in this challenging examination. In this comprehensive guide, we'll explore the resources that the best UGC NET JRF English coaching institutes in Kerala typically offer to their students.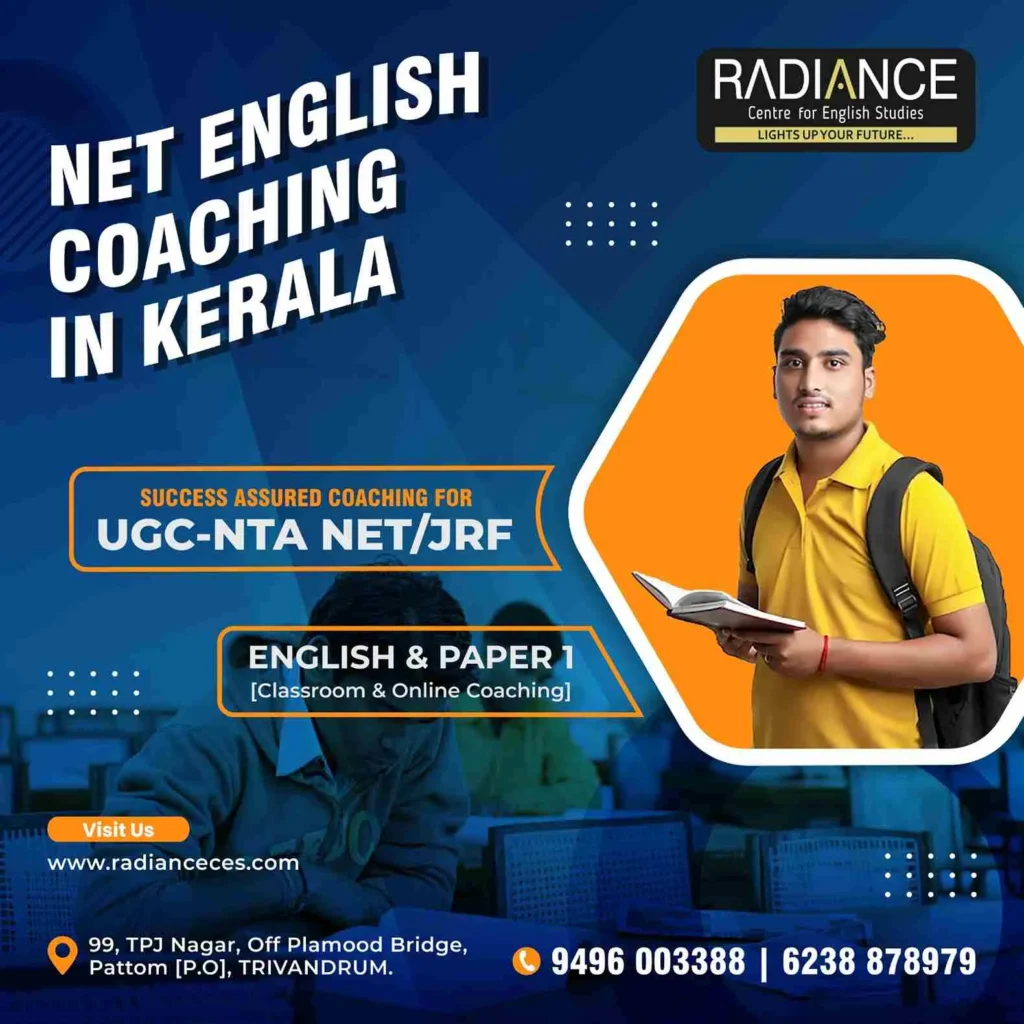 Expert Faculty: The cornerstone of any successful coaching institute is its faculty. The best UGC NET JRF English coaching institutes in Kerala pride themselves on having a team of experienced and knowledgeable educators. These faculty members are well-versed in the UGC NET syllabus and offer valuable insights, strategies, and guidance to their students.

Comprehensive Study Material: To succeed in the UGC NET JRF English exam, students need access to high-quality study material. Coaching institutes in Kerala provide meticulously crafted study materials that cover all the relevant topics, including literature, grammar, linguistics, and critical theory. These materials are often designed to cater to the specific needs of UGC NET JRF aspirants.

Regular Classroom Sessions: In-person or online classroom sessions are an integral part of UGC NET JRF English coaching in Kerala. These sessions provide a structured approach to learning and allow students to interact with their instructors and peers. Students can clarify doubts, engage in discussions, and receive real-time feedback during these sessions.

Mock Tests and Practice Papers: Practice makes perfect, and UGC NET JRF coaching institutes in Kerala understand this well. They offer a plethora of mock tests and practice papers that simulate the actual exam conditions. This helps students evaluate their progress and get accustomed to the exam pattern.

Personalized Guidance and Mentorship: Each student is unique, and the best coaching institutes recognize this by offering personalized guidance and mentorship. Instructors often work closely with students to identify their strengths and weaknesses, helping them tailor their preparation strategy accordingly.
Online Resources: In the digital age, online resources play a crucial role in UGC NET JRF coaching. The best coaching institutes provide students with access to online study materials, webinars, e-lectures, and discussion forums to enhance their learning experience.

Library and Research Facilities: Kerala's coaching institutes often have well-stocked libraries with an extensive collection of reference books, research papers, and literary works. These resources are essential for students who wish to delve deeper into their areas of interest and gain a comprehensive understanding of the subject.

Regular Assessment and Feedback: Progress assessment is an ongoing process at these coaching institutes. Students receive regular feedback on their performance, which helps them identify areas that need improvement. This feedback loop aids in refining their exam preparation strategy.

Current Affairs and News Updates: The UGC NET JRF English paper includes sections on contemporary developments in the English language and literature. Coaching institutes keep students updated with the latest news, trends, and developments in the field.

Stress Management and Exam Strategies: Preparing for a competitive exam like UGC NET JRF can be mentally taxing. Coaching institutes often provide stress management sessions and offer guidance on effective time management and exam-taking strategies to help students stay focused and perform at their best.

Conclusion: The best UGC NET JRF English coaching institutes in Kerala go the extra mile to ensure that their students are well-prepared for this challenging examination. They provide a diverse range of resources, including expert faculty, comprehensive study materials, classroom sessions, mock tests, and personalized guidance. With these resources at their disposal, UGC NET JRF English aspirants in Kerala can significantly increase their chances of success in this prestigious examination.